Total solar eclipse on August 11th, 1999
The pictures were made at Weihenstephan/Freising near
Munich / Bavaria. Location exactly was longitude 11,4° E
and latitude 48,2° N (HAM Locator JN58UJ).
The eclipse lasts 2:07 minutes.
The weather conditions were very different. Many clouds
and heavy rain in the area of munich but some areas
around Munich had good seeing.
Lucky guys who saw the eclipse.
The pictures were made with an Olympus OM-1 camera,
1000/100mm lens and Kodak E200 professionell (colour slides).
Exposure time was about 1/8 to 1/2 s without filtre.
From my position the sky was cloudy too, but I could see the
eclipse very well. The sky was not completely clear.
I saw the corona and protouberances with the naked eye too.
People around me were clapping their hands, shouted with joy.
Everyone was fascinated.
The eclipse was very impressive for me and I will never forget
it in my life.
First and second picture were short to totality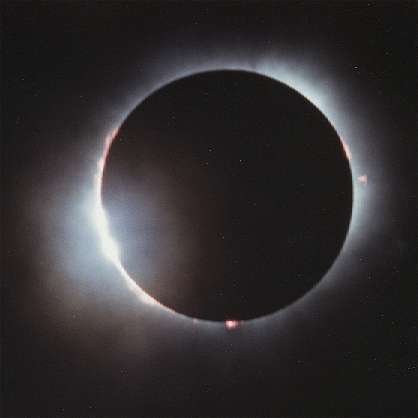 Next pictures show totality